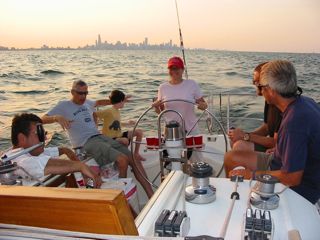 At Sailboat Sales Co. our main goal is making money. Well, truthfully, while it is one of our goals, it's only one. But even if it was the No. 1 goal, to continue to make money we'd need ...
SATISFIED CUSTOMERS
Or, as the guy with the radio ads for his frame company says, not just "satisfied" customers, but "really happy" customers. After making selling new and used sailboats my life's work, I can honestly say it's a whole lot more fun doing the job well than just doing the job. Mostly, doing it really well just means being prepared and ...
MINIMIZING SURPRISES!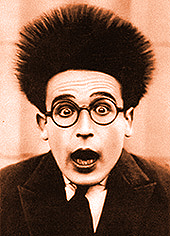 After all, we're consumers too, and have been on your side of the table and know what a drag it is playing guessing games with salespeople. It helps to be given as much information as is realistically possible by the salesperson, in order to best meet one's expectations.
We are believers in the Woody Allen adage that 90% of enjoying a successful life is showing up. We also believe that we must show up bright eyed and bushy tailed, with genuine enthusiasm for our roles as salespeople. We must deliver to you clear, concise information, in order to lead you to the boat that best suits your needs.
So, the primary purpose of this web page is to address the most often asked questions of those of you new to boat ownership in the Chicago metropolitan area, and beyond - a Chicago Boat Buying FAQ !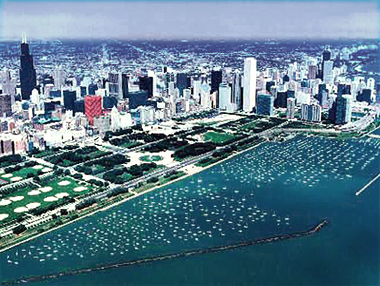 ---
Are moorings available?
Moorings are available in Chicago and in all the marinas in the surrounding area. Chicago has 10 beautiful harbors. For rates, please visit the Chicago Harbors website. Or check out the Hammond Marina website.
Slips for high-demand "boutique" harbors in Chicago like DuSable have historically been hard to come by. You can expect to be on a wait list for a year or more. However, slips at 31st Street Harbor are available immediately.
The main advantages of a slip are: you get shore hook-ups for water and power, parking is usually closer to the boat, there's no waiting for a water taxi or rowing out and back, and it's always flat water. But the cost of a slip is double to triple the cost of a mooring.
Many people prefer a mooring because it is a more traditional and classic way of harboring a sailboat, and compared to a slip a mooring offers greater privacy. Plus, it is almost always easier to manage leaving and returning because there is only one attachment point, at the bow, rather than the five lines required in a slip. One must protect the bow areas from being scraped by the mooring can, but this can be done with a simple foam kit.
For links to other regional harbors, visit our LINKS page.
Where do I park my boat in the off-season?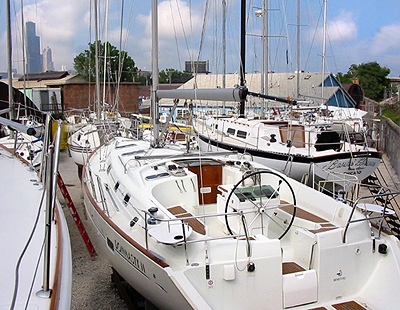 Crowley's Yacht Yard, of course! If you are looking for an established, full service, reliable and secure yard, it's hard to beat Crowley's, with 50 full time associates, many with well over 20 years at Crowley's. In 2004, Crowley's moved from our old Archer Avenue location to our 95th Street location on the Calumet River. No more long trips through downtown waiting for the locks and 26 bridges to open. We are only two bridges away from Lake Michigan!
Indoor heated storage, or indoor unheated storage, and outdoor storage are available. Additional services such as winterizing of engine, water, and plumbing systems are all offered at competitive rates. For a complete description of services and pricing, please visit www.crowleys.com.
Aside from summer mooring and winter storage, what are my other fixed costs?
Insurance will range from $500 to $1200 for full twelve-month coverage for a 30 to 35 foot boat. Want to know more? Local insurance agent Deane Tank has written an informative article about marine insurance.
Basic maintenance costs include preventive and corrective tasks such as cleaning and/or fixing the boat and her mast and rigging, sails, interior and exterior, and bottom. Many of our owners enjoy doing much of this themselves, as it allows them to better understand their boat, is sometimes therapeutic and may save money over having our crack professionals do it.
When you visit Sailboat Sales Co. at Crowley's, spend fifteen minutes browsing through our Ship's Store and introduce yourself.
I can borrow money to buy my home and my car. Can I borrow money to buy my new or used boat?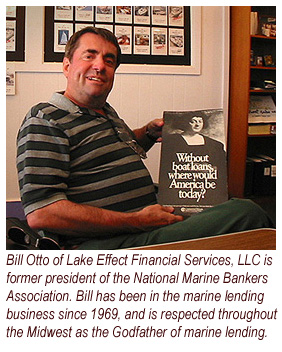 As Christopher Columbus would say, "Without Boat Loans, Where Would America Be Today?"
Rates run a point or two above home mortgage rates, terms from 5 to 20 years, with 20% down. Generally there are no points or closing costs.
Please ask for a loan application.
I am excited about buying my first boat and getting my friends, family, and business associates out on the lake. There is no need for lessons, right?
Well, to tell you the truth, we really recommend lessons to get a handle on the basic principles of learning to sail.
Many people "wing it" and maybe get by for a while, but a good foundation in sailing can be found in structured lessons during the course of an intensive week, or month. And it's fun!
"How long does it take to learn to sail?" you ask. To be honest, your whole life! While you're learning, there's lots of other fun stuff to do ... like simply hanging around the boat at the mooring reading a book, writing a letter, or napping, or having a drink with a friend.
Take it easy, go in small steps, and stay in the harbor if you feel like it's too windy and wavy. Don't try to do too much too soon. Create achievable challenges for yourself. There are quite a few sailing schools both private and Park District operated. Visit our links page for a list. Sign up for beginner or refresher lessons!
If I'm buying a used boat, are there warranties or guarantees or is it like a used car?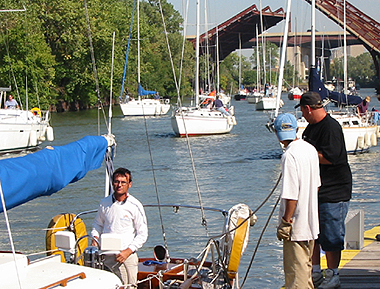 Used boats are almost always bought "as is." Marine surveyors are available to inspect the boat you choose and with reasonable accuracy determine how "sound" she is. You receive a written report, copies of which you will be asked to provide to the financing and insurance people. Your broker, the boatyard personnel, and the surveyor can assist you in coming to a realistic perspective on what to do about what the surveyor finds.
Does the surveyor look at stuff like sails, electronics and other systems like the head, water system, pumps and inboard or outboard engine?
Click here for a list of local and regional surveyors. We encourage you to call and interview them to determine exactly what they do, and what they don't do, for what you pay. Generally, surveyors in this area do not inspect or determine the condition of the above. Sails can be checked out either here at the yard with your broker or at the sail loft of your choice. For a reference to good sail lofts in Chicago, go to the heading Chicago Area Sail Lofts on our links page.
Electronics like VHF radio, speed and wind instruments, loran/GPS etc. can be demonstrated by the seller or checked out by Crowley's.
The most important system on the boat to check out is the engine, because it's a large piece of machinery that costs a lot to re-build or replace. When checked out by a mechanic, sailboat engines are fine 90 percent of the time. Crowley's has a well-staffed mechanical department with a "mobile unit" designed to perform thorough Engine surveys (from about $395). Having the engine checked ahead of time can save a lot of headaches later.
When boats are purchased in the winter, most boat brokers will offer what's known as an "engine/systems escrow", which means equipment that can't be properly checked on land will be specified and covered by a $1000 or more "hold back" from the seller's proceeds until the boat is launched and adequate tests can be made.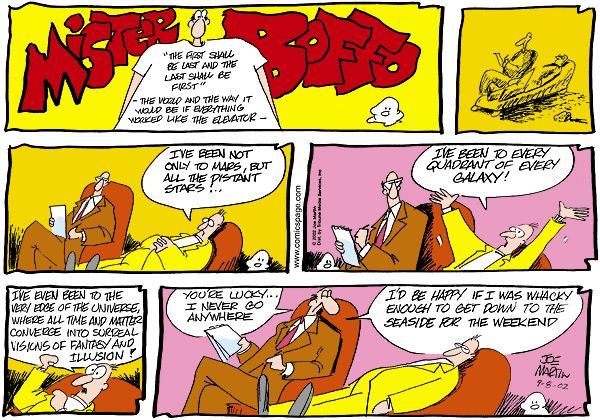 What about sales or use tax?
If it's a new boat or trade-in boat, then Illinois sales tax and other local and regional use taxes may apply. In addition, a 3-Year Illinois registration fee ranges from $60 to $210 based on the length of the boat.
In Illinois, a use-tax is the only tax owed when a watercraft is acquired by gift, donation, transfer, or non-retail purchase if the watercraft will be used in Illinois. The Illinois Watercraft Use Tax is 6.25% of the purchase price. For more specific details, read this bulletin from the Illinois Department of Revenue.

If you will be taking the boat out of state, you don't have to pay the Illinois tax, but most states have a similar tax that you will have to pay.
I live far away from Chicago. Can you arrange shipment?
Crowley's Yacht Yard maintains a web page with a list of recommended trucking companies that you can contact yourself for a quote on boat hauling, and it explains the cost for Crowley's to prepare a boat for trucking.


I'm ready to start shopping for a boat. Now what?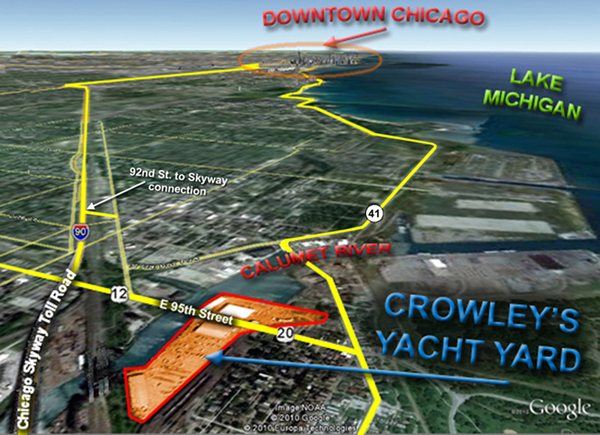 Take a look at the boats we currently have listed for sale. We try to include as much detail and as many photos as possible. You can always give us a call, or better yet, come visit us and see the boats in person.
We're located at Crowley's Yacht Yard on Chicago's Calumet River, just two bridges in from Lake Michigan! Many of the boats here are in heated indoor storage. Crowley's has a great service department, a large ship's store, and quick, easy access to the lake.
Visit Crowley's directions page for maps and directions.


Thanks for visiting!